Keliweb provides several affordable hosting solutions (such as KeliCMS, a shared plan for Drupal, Joomla!, Wordpress, etc. and KeliSSL for Facebook applications and e-commerce websites requiring an SSL Certificate) offering you the possibility to change the PHP version and easily set PHP.ini, directly from cPanel. 
If you buy one of these plans, cPanel will be automatically provided with four innovative functions to: 

choose the PHP version

you prefer for your website, including the latest releases

; 

configure the PHP.ini configuration file as you wish, without using a text editor; 

enable or

 deactivate

100 additional PHP modules

.
To access these features you have to follow a few steps:
1) Enter your cPanel and look for the  "Select PHP Version" icon on the dashboard;

2) Choose between the native version of  PHP (the default one) or between PHP 4.4, 5.1, 5.2, 5.3, 5.4 o 5.5 and click on "Set as current", to make the core of the chosen language available;  

3) Modify  PHP.ini using the graphic interface, directly from cPanel, by clicking on "Show PHP Extensions". In the table, you will find all PHP characteristics (a number, a string or a text field, depending on cases). 
You can change the  max_execution_time of your scripts from 30 to 25 seconds and modify the parameter error_reporting (E_ALL or E_ALL & E_NOTICE). All these changes are valid for all fields in the page and they can be very useful when you process your website's debug.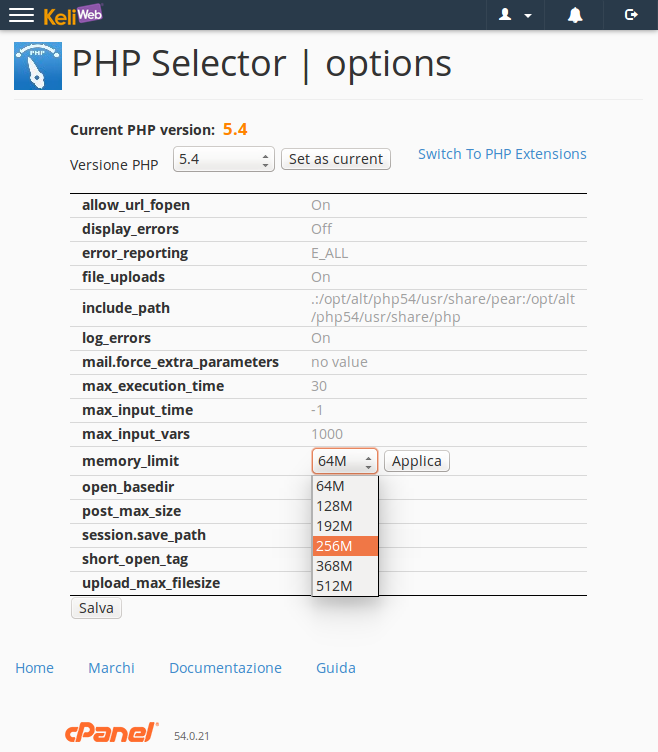 Here is the full table of all the parameters  you can set.
| | | |
| --- | --- | --- |
| Characteristic | Permitted Value | Notes |
| allow_url_fopen | On/Off (On) | It enables wrapper URL for fopen. |
| display_errors | Off/On (Off) | It determines if the errors have to be displayed as part of the output or be hidden to the user. |
| error_reporting | E_ALL, E_ALL & E_NOTICE (E_ALL) | It allows to set the error level to ease the debug procedure.  |
| file_uploads | 1/0 (1) | It enables (1) or not (0) the upload of files on the server.  |
| include_path | Directory (".;/path/to/php/pear") | Directory where the require, include, fopen(), file(), readfile() e file_get_contents() functions will search for the website's files. |
| log_errors | On/Off (On) | It determines if  the error messages have to be recorded in the default  errorlog  or in a dedicated file (useful for the development process). |
| mail.force_extra_parameters | [parameter] | It adds extra parameters to e-mails for sendmail |
| max_execution_time | Numeric (30) | It determines the maximum amount of seconds before the interruption of a script. |
| max_input_time | Numeric (60) | It determines the maximum amount of seconds for a script to receive input data, such as POST, GET and generic upload.  |
| memory_limit | Numeric (128M) | It fixes the maximum amount of storage (in bytes)  for scripts. |
| open_basedir | Directory (NULL) | It limits the files that can be opened to a specific folder containing the file itself.  |
| post_max_size | Numeric (8M) | It sets the maximum size of POST and files' upload.   |
| short_open_tag | On/Off (On) | It enables or not  the short version of tag of the PHP opening (for example <? ?>)  |
| upload_max_filesize | Numeric (2M) | Maximum dimension of a file sendable on server (in MB) |
4)  Enable or disable, in a few clicks, several modules such as dba, sourceguardian, xcache_3 and many more. Here is a short list of the most popular ones:
apc: (Alternative PHP Cache

): alternative 

free

 e 

open source

 cache, providing a real framework to optimize the code and performances on pages; 

mcrypt: to enable data protection, using public/private keys; 
sourceguardian: to add an additional layer in the system to encrypt the source code (useful to add non-editable pages of a website); 
mongo: to enable the PHP server to interface with

 Mongo

, a schemeless database (NoSQL) without a preset structure of columns, used by Google in the  BigTable project;
rsync: to synchronize files and folders;
json: to support  JSON strings;
suhosin:  for system's security;
mbstring: to enable multibyte strings in addition to specific functions;
To save the custom configuration click on "Save" and to restore the default configuration  click on "Use Defaults".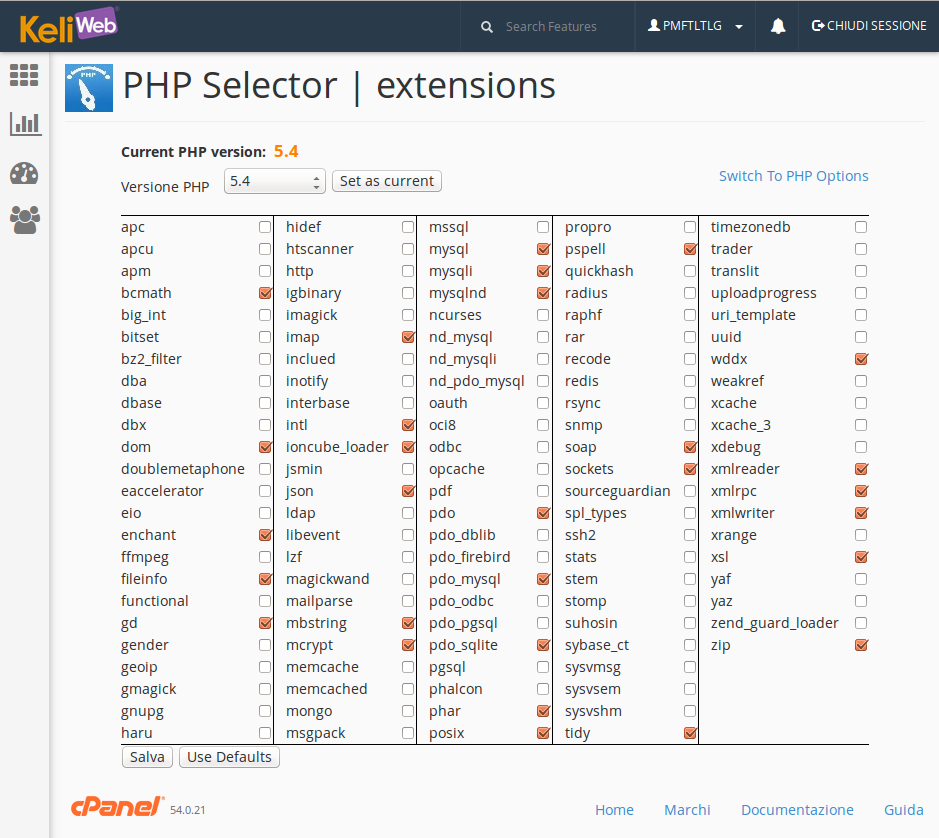 Have you found it useful?