Keliweb provides you with an extremely useful tool which allows you to transfer automatically and for free your website and database from your old provider.
This tool can be used for all services having php in execution. We remind you that this tool is designed to work only if you use a Keliweb destination server.
WARNING
The BETA version software may not guarantee a full functioning. Keliweb cannot be held responsible for any malfunctioning such as loss of data, corruption of files or databases or any other disservice. In case of disservices you can contact our support via ticket system but we cannot guarantee the resolution of the problem according to the regular support timing.
To use this tool login to your customer area. In the Menu, on your left, select the icon Migration tool.
In the new window, select "Website Transfer". Here you'll find a form to fill in with the required data to retrieve your website from the old server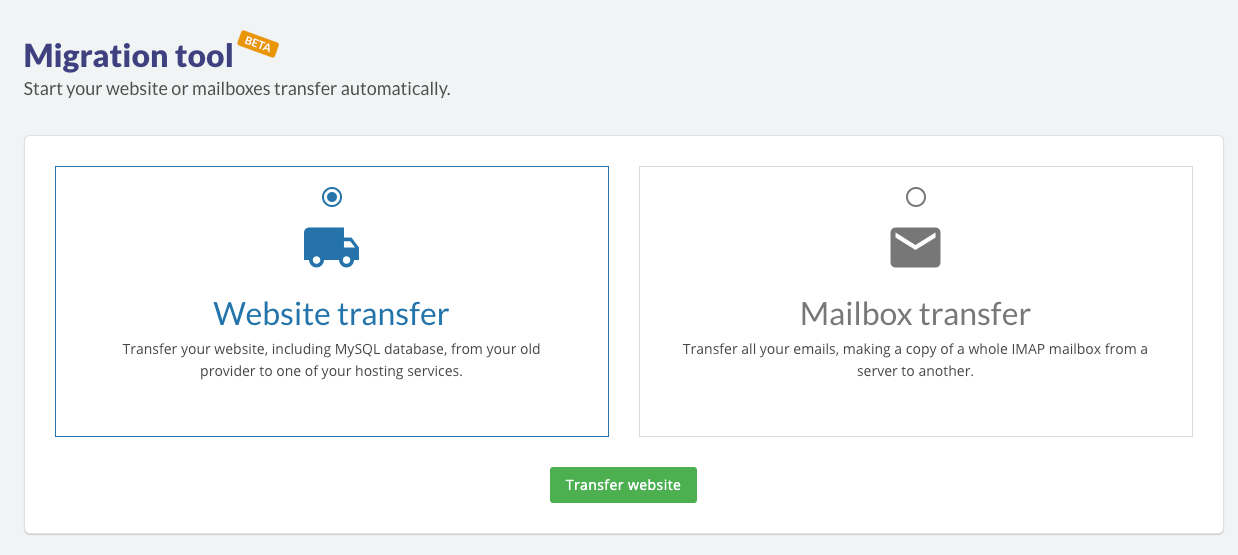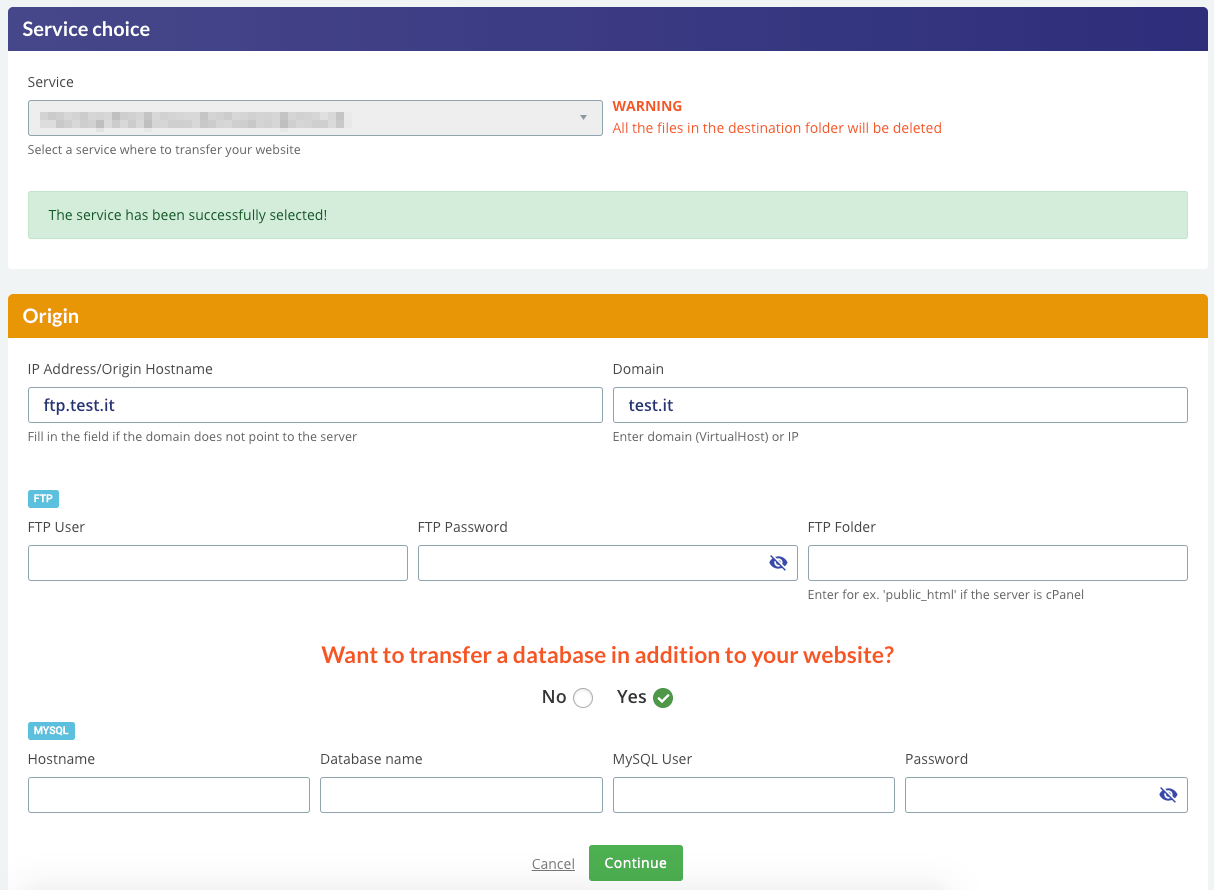 Before proceeding make sure you're provided with all the correct data and informations.

You can fill in all the required fields easily:
Select from the Service Menu the destination service

Enter the domain of your website to be transferred and specify the alternative hostname in case your provider provides FTP access through a different access than the web server
Enter the old provider's FTP username and password. Also, indicate the FTP directory where the website files are located on the old server. In a hosting with cPanel control panel it is usually public_html
To transfer the database, enter the MySQL server (usually localhost, but it could also be an IP address or an alphanumeric address), the name of the database associated with the website, the username of the database user and the password associated with the database user. Only MySQL databases can be transferred.
In the Destination page, enter manually all the required data in the sections Domain, FTP and MySQL, if the service is a server or a VPS. If the service is a hosting the data will be automatically generated by the system.
Click on "Start transfer" to start the procedure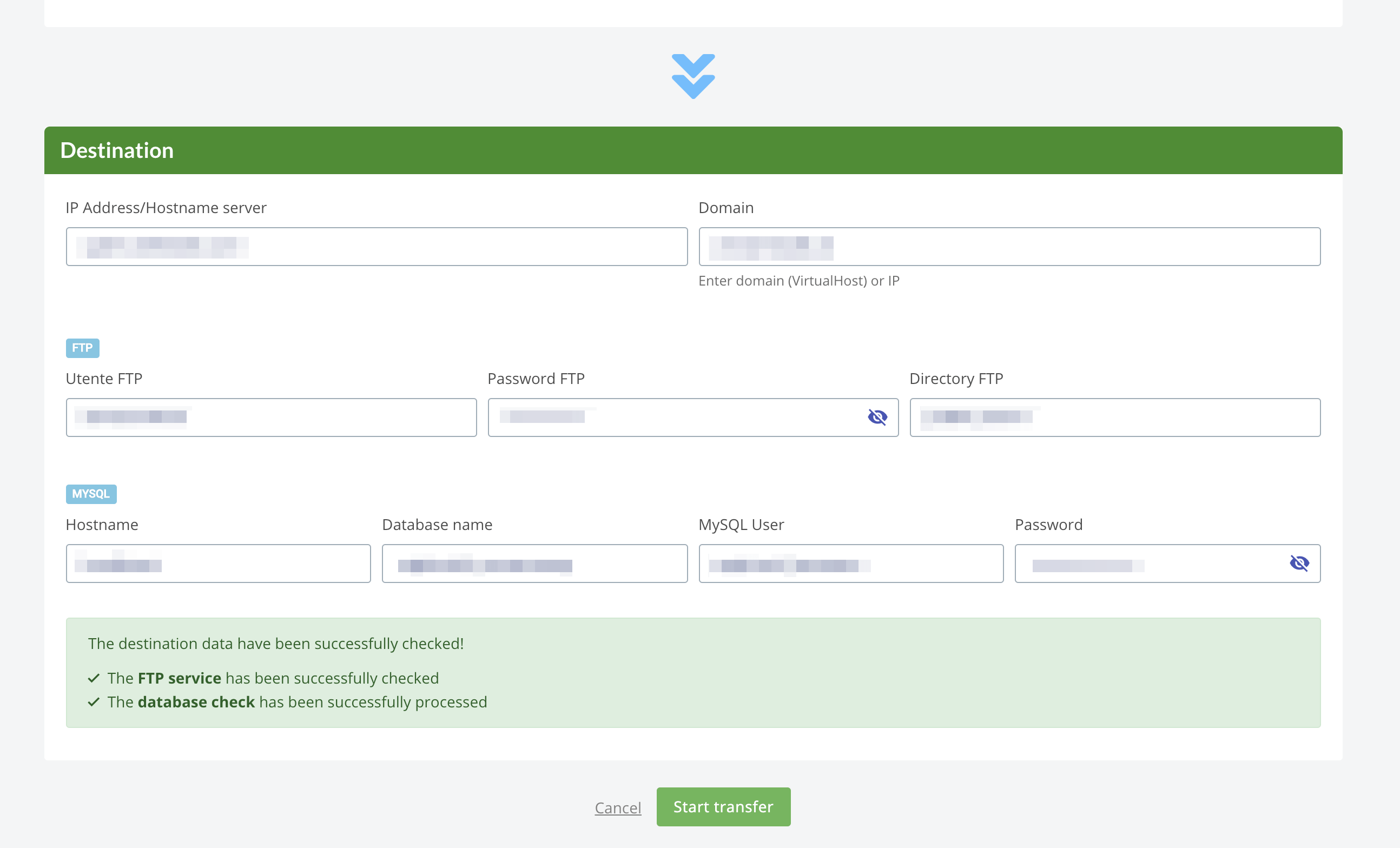 The duration of the process may depend on the quantity and size of the files to be transferred. You can follow the progress in the dedicated page. If the service does not point to Keliweb server yet you can preview it following the instructions of our dedicated FAQ.
You can request support for any kind of problem related to the tool's functioning opening a ticket straightly from your customer area. Please report the problem and all the steps you've details in details to get a faster resolution.
If you don't want to use our migration tool, you can buy our Migration support option: our specialists will take care of the migration procedure. 
For further informations, please contact our administrative support via chat, ticket or telephone.